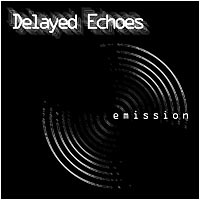 Emission was released on August 23rd 2008.
Emission, the first album, is somewhere between ambient, chillout and movie soundtracks. Hard to tell. The most recognizable influences, especially in sounds, are Andreas Vollenweider, The Cure, Cocteau Twins and others you might spot. Kenyan music, especially from Ayub Ogada, has been a great inspiration, especially regarding the structure of songs and the mood. It is more evident in some tracks than others. Other influences are Tangerine Dream, Jean-Michel Jarre, Trisomie 21, Depeche Mode, Wumpscut and so many others it's hard to make a list.
The scenario behind the concept is rather simple and gives a good idea of the general mood of the album. Imagine yourself in a room, probably a bedroom, on a rainy afternoon. The window is opened and you hear the sounds of the city. You have nothing to do except relax and enjoy the moment, endlessly. Emission is a soundtrack for a perfect waste of time (although time is never wasted). The album is designed to be played in loop for hours. It has a wave structure that goes from very smooth and slow to a bit more upbeat and back down again.
Emission is available for free in MP3 (320kbps) here for personal use. (144MB)
Please take the time to leave a comment here or in a private message.  It's really appreciated.